Normally a weekly post of what I'm reading would be considerably a somewhat good idea, since I can usually finish a book in two weeks or less. But lately that hasn't been happening as much.
What's the problem?
Well I've gotten used to finishing books in two weeks or less, of course that's going to be a problem especially if I pressure myself to do it.
Not that I do that... much.
Ignore the fact that last year I read 36 books and in the last six months I've already reached 31.
Anyway given the fact that I mentioned that I was taking a brake from two books that I was reading last week it's kind of obvious that not much has changed. I did finish
The Hunger Games
, (in less than two weeks) so it's nice to check that off.
I didn't want to, but of course I've no self-control so I started reading
The I Love Lucy Book by Bart Andrews
I'm a huge I Love Lucy fan and I've been wanting to read this for a while now. So far I'm yet to be disappointed and there's so much that I didn't even know about Lucille Ball, this is definitely leading to some changes in my point of view.
The only weird thing is that this book was written around the shows 35th anniversary and this year marks it's 60th. So yeah a little dated, but it's not like the past has changed that much.
I want to take my time with it, of course I say that a lot, conveniently the times I say that are usually the times I finish quicker.
If you're like me and want to cross off some books from your to-read list a good way to do that would be to join a read-a-thon and it just so happens that
Squeaky Books
is hosting one this weekend.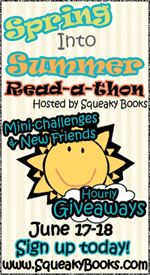 Click the image to learn more!
I most likely will be participating but am not completely sure if I'll actually read what I want to finish. I'm very strange like that.