A few months ago I got an email from
Ruby's Reads
inviting me to join in a Secret Santa Book Exchange; now I have to confess this year I've entered so many giveaways on so many awesome blogs that I really can't keep track of where I've been. I'm getting better at it though writing this blog has actually helped me be a more faithful follower to a handful of blogs. They have to get my attention, which truthfully isn't that hard a thing to do with me, that's why I don't want to make following this blog mandatory for giveaway entries (
July Summer Giveaway Hop
still going on hint hint no follow required wink wink) it's not the quantity that matters but the quality.
Anyway I can't resist a book exchange so of course I entered then went and made my wishlist, which mainly consisted of paperbacks I want (they're cheaper). Earlier this week I got an email from Patricia from
Patricia's Particularity
telling me that my book was coming this week.
Yay something to look forward to!
Wow that kind of makes it sound like I don't have a lot going for me, oh well who doesn't get excited about new books?
Actually she said by the 6th, so I was pretty happy this morning. I didn't know how it was coming and my house has a pretty big gate that most people think is always locked or that we're trying to keep them out so most deliveries get pushed under or thrown into our rosebush. So there I was this morning watching Supernatural,
Monster Movie
one of my favorite episodes, when I heard a thud outside and oh-so subtly yanked the door open to see what it was and saw:
NOTHING!
My imagination it happens, I have super sensitive hearing it was most likely a neighbor, my book was probably in the mail box if it did come today I could wait. After lunch I decided to risk the heat (90 °F) and check the mailbox, I open the door and step on a packet that had been sitting there for about 4 hours.
There's a lesson here: always look DOWN!
So what was in the package?
Appropriate how I mentioned that I was watching when it got here right?
Yep, can I just say my reaction when I saw? I giggled like an idiot, of course that always happens when someone shows me something with a man that I enjoy staring at.
I really didn't see this coming, I kind of expected someone to choose it when I added it to my list but didn't actually imagine getting it. So thanks so much Patricia! I can't wait to read it.
It wasn't even on my official to-read list and I can't remember how it ended up on my wish-list. I knew these books were out there but never really looked for them, I actually recommended it to my cousin as a joke, but then I read the description and decided to give it a try myself.
There's no resisting a Winchester.
It's one of the few shows that I enjoy watching that hasn't been cancelled, I'm bad luck to shows anytime I fall in love with a new one it barely ever makes it past a second season, if it's lucky.
I should wrap up now didn't expect my thanks to go on so long, I'm sure you've read enough from me today. Again thanks go out to Patricia!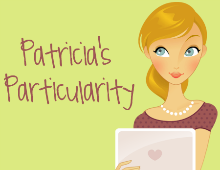 She's having a month long Harry Potter Celebration with lots of discussions and giveaways! So when you're done entering the giveaway
here
you should go check it out.