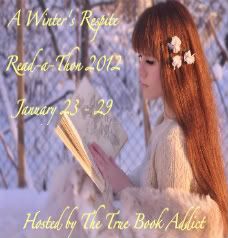 And then it hit me; maybe I could go further if I tried sticking to one book. I've been switching between L
ife's That Way
in the morning and
Brightest Kind of Darkness
in the evening. I don't know when I started reading more then one book at a time, but it's just habit now.
I haven't made
that
much progress in my reading, especially since I woke up sick on Tuesday and yesterday I had to put on my
I'm sick, but no I'm not dying
act, so I couldn't read as much as I would have liked.
Feeling better today so hopefully I'll be able to get to some of those challenges I saw and said I'd do later. (I really need to stop doing that, I always say I'll get back to something but forget.)
Maybe I can manage to finish a book by the end of this read-a-thon, I know I'll have all of tomorrow and hopefully most of this evening so that will take me pretty far.