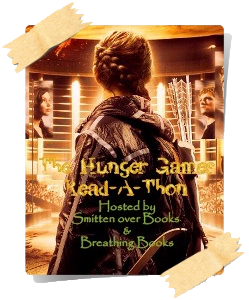 I think I've done a pretty good job hiding my anticipation for the upcoming Hunger Games movie, at least on here. Anywhere else I have a feeling I've been getting a tad bit annoying. I'm not sure who makes me talk about it more; people who
have
read it or the people who have never even heard of it.
During last week's Love-a-thon I found a blog hosting just what I need to fuel my growing obsession:
March 23, 2012 is fast approaching. Everyone be it from the reading or non-reading community have already marked their calendars in eager anticipation for the theater-release of The Hunger Games, the first in the much-celebrated book trilogy of Suzanne Collins.
That's why we are happy to announce this event to help us kill time before the wait kills us (That's totally lame, I know) Me and Sana from Breathing Books will be hosting The Hunger Games Read-A-Thon, a month-long read-a-thon that will start from February 23, 2012 until the eve of March 23, 2012.
Not only will this event serve as a refresher before the movie comes out but it will be fun discussing THG with other hardcore monkey mutts--er I mean hardcore THG fanatics.