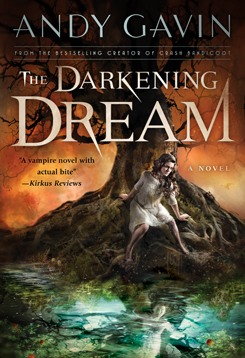 The Darkening Dream
by
Andy Gavin
My rating:
5 of 5 stars
Published January 10th 2012 by Mascherato Publishing
Even as the modern world pushes the supernatural aside in favor of science and steel, the old ways remain. God, demon, monster, and sorcerer alike plot to regain what was theirs.
1913, Salem, Massachusetts – Sarah Engelmann's life is full of friends, books, and avoiding the pressure to choose a husband, until an ominous vision and the haunting call of an otherworldly trumpet shake her. When she stumbles across a gruesome corpse, she fears that her vision was more of a premonition. And when she sees the murdered boy moving through the crowd at an amusement park, Sarah is thrust into a dark battle she does not understand.
With the help of Alex, an attractive Greek immigrant who knows a startling amount about the undead, Sarah sets out to uncover the truth. Their quest takes them to the factory mills of Salem, on a midnight boat ride to spy on an eerie coastal lair, and back, unexpectedly, to their own homes. What can Alex's elderly, vampire-hunting grandfather and Sarah's own rabbi father tell them? And what do Sarah's continuing visions reveal?
No less than Gabriel's Trumpet, the tool that will announce the End of Days, is at stake, and the forces that have banded to recover it include a 900 year-old vampire, a trio of disgruntled Egyptian gods, and a demon-loving Puritan minister. At the center of this swirling cast is Sarah, who must fight a millennia-old battle against unspeakable forces, knowing the ultimate prize might be herself.
The Darkening Dream is the chilling new dark fantasy novel by Andy Gavin, creator of Crash Bandicoot and Jak & Daxter.
Now this is a vampire novel! Don't get me wrong I have nothing against all the cute little "vamps are just like us" books out there; but given the choice I'd much rather read about them doing horrible evil things.
And I don't mean making out with girls young enough to be their 6x granddaughters.
And if a character knows how to use a stake, I'm all for them.
It flows so perfectly between character point of views, it's a great blend of historical fiction, mythology and paranormal I couldn't get through it quicker. I actually put so much off just to read it.... and you know what, just go read it now stop reading this and go!
What you want more?
Alrighty, when I got to the end of the book I immediately wanted to read it again. If I hadn't been using my reader I might have thrown it around a little, though.
Seriously? That's the ending you're going to give it?
Well all I have to say to that is: thank you.
Vampires, witchcraft, gods, angels, demons and everything in between (which can also be labeled as things I have no clue about), yes, yes and yes.