From Alexa Love's Books
What is the YA Prom?
Well, YA Prom is a lot like regular prom. But this time you can skip waiting anxiously for that perfect boy to ask you, obsessively rifling through clothing stores for the perfect dress, all that other perfect jazz, and go straight to the partying on twitter in your pajamas!
All you really have to do to join The YA Prom is:
1. Write a post detailing who your YA date is (ex: Harry from Harry Potter), what you're wearing, and any other information you deem necessary.
2. Post said post on your blog/tumblr/wherever by June 25th at 8:30pm and link up to the Linky that will appear on both Gaby and Alexa's blogs when their prom posts go up.
3. Pop onto Twitter at 8:30pm on June 25th and, using the hashtag #YAProm, spend an hour with your twitter friends celebrating YA, prom, and other excellent things!
I didn't go to my prom, so can I just take this moment to thank Alexa for the invite. That's as close as I'll ever get to being asked to prom.
Not that I would have sat around waiting for a guy to ask I'd have had no problem going just me; but my senior was not that fab so...
Plus those things are not cheap.
Picking a guy for my actual prom would have been a lot easier than picking one for the YA prom.
I've mentioned my real prom pick here maybe once or twice and that was mainly when I was saying that he would have been my Maxon while another guy was my Aspen.
Didn't get either of them so that's a story I won't get into.
I had about three YA guys on my mind and it was so hard to pick.
But I finally decided on a somewhat lesser known character (which does lower my chances of finding someone else with him): Gabriel from
Escape From Eden.
Really that should be Gabriel I-can-not-for-the-life-of-me-remember-if-he-has-a-last-name-and-feel-really-bad-about-it from Escape from Eden.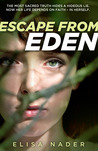 I ended up picking him because I thought this situation kind of fit too well with what happens to him in the book.
Definitely recommend reading it to find out about that.
Plus any guy who can get me saying this in a review has got to be first picks:
I'd gladly run away from my freaky over-controlling community with him.


As for dress: Picking was easy finding a picture to show you guys was/is the hard part. I picked one that I have actually found in the store, in a variety of colors, and have always wanted. I've even said that if I get married anytime soon it will be in that style.
(I say "anytime soon" because I do change my mind a lot).

It's kind of like the dress on the cover of The Goddess Legacy.

UPDATE: I FOUND A PICTURE!
It does exist! Who'd have thought I should have checked the store I saw it in!