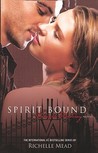 Spirit Bound
by
Richelle Mead
My rating:
5 of 5 stars
Published May 18th 2010 by Penguin Razorbill
Dimitri gave Rose the ultimate choice. But she chose wrong...

After a long and heartbreaking journey to Dimitri's birthplace in Siberia, Rose Hathaway has finally returned to St. Vladimir's-and to her best friend, Lissa. It is nearly graduation, and the girls can't wait for their real lives beyond the Academy's iron gates to begin. But Rose's heart still aches for Dimitri, and she knows he's out there, somewhere.

She failed to kill him when she had the chance. And now her worst fears are about to come true. Dimitri has tasted her blood, and now he is hunting her. And this time he won't rest until Rose joins him... forever.
2014 Stop Everything Book
I think I'm being ironic when I say "stop everything" because it took me about a month to read
Spirit Bound,
and almost 4 months later I'm still working my way through
Last Sacrifice
. If anything I've had to stop reading to do everything else.
I would have loved to stop everything else to read both these books but sometimes I also feel like I can't spend too much time with them. I stop myself, instead of letting myself fall like I do with so many other books.
I'm going to say it's the intensity these books have, even when nothing is going on I have to step back and stop to re-orientate myself to this world.
Especially when Dimitri would show up.
Or was even mentioned.
I absolutely love this series and can not wait to continue with the spin-off.
Favorite Quotes from the Series:
"He has no right to threaten my boyfriends. I'm eighteen. An adult. I don't need his help. I can threaten my boyfriends myself." -
Spirit Bound
"Life's like that. As we grow and change, some things we've experience before take on new meaning. It'll happen for the rest of your life."
―
Blood Promise
"Life and death were so unpredictable. So close to each other. We existed moment to moment, never knowing who would be the next to leave this world."
―
Shadow Kiss
"He's hot like, the kind of hot that makes you stop walking on the street and get hit by traffic."
―
Frostbite