Enter to Win a copy of Insurgent or an Epic Reads Sampler!
I'd say "in no particular order" but that's not true; they're in order from when I read them, so April 2014 to now.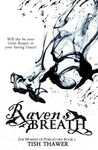 Raven's Breath
by
Tish Thawer
My rating:
5 of 5 stars
I have to confess that I have a strange fascination with stories about Death. Capitol D. But really it's only strange to the people I mention it to. Some people like vampires, some people like zombies. I like grim reapers and lords of the Underworld. And the occasional angel. Which this also has! Yay!
As much as I enjoy stories like this I don't read them too often, so when I do I'm instantly caught up in them. And this, obviously, was no exception.
The characters are so fun, definitely a bunch I enjoyed spending time with. And wouldn't mind spending more time with in the future. It's such a great new imaginative world. And the way it flows is amazing I just fell into it and didn't realize how far in I was until I had to stop.
FULL REIVEW
Second Star
by
Alyssa B. Sheinmel
My rating:
5 of 5 stars
I loved Second Star. I'm constantly looking for books just like it and only find them every so often.
I love the story of Peter Pan; strangely enough that's not the complete reason I decided to read this- just partially since someone mentioned the connection to it- but I have to confess that I was never much of a fan of Wendy. And for the first part of this book Wendy kind of bugged me. I considered it a Pro, since she had me feeling the same thing as the original Wendy had me feeling. But as the story progressed she became real and I found myself really caring for her and hoping that she found her brothers and anything else she might have been looking for.
Now let's talk love triangle: though I didn't really see it that way but I guess that's what it was. I saw it more as a before and after for Wendy; and considering that I started liking her when she went off with Jas I think it fits. Pete is the guy who doesn't really care about growing up and Jas, in the end, wants to. I would have liked to have seen more moments with Pete and Jas that relationship alone would make a good story.
This book took a fairy tale and reminded us that life is not a fantasy. No matter how much we'd like it to be.
ORIGINAL REVIEW POST
Lamb to the Slaughter
by
Karen Ann Hopkins
My rating:
4.5 of 5 stars
I'm so glad that this is going to be a series; because it's one of the greatest murder mysteries that I've read in a long time.
With all the twist and the secrets I couldn't change the page fast enough. And the Amish community! This is not the Amish we meet in Hopkins' other books. I loved the darkness to it, which in reality is just them protecting themselves but I had to ask myself just how far will they go to protect one another.
Serenity and Daniel are the perfect duo I look forward to spending more time with them. And I can't even find the words to describe their relationship.
FULL REVIEW
The Truth About Alice
by
Jennifer Mathieu
My rating:
4 of 5 stars
It's such an honest look at the very different things teens go though in high school; or in their personal lives. From the pretty popular girl to the nerdy guy that keeps to himself; all connected by some rumor they kept alive for one reason or another.
And it's their personal lives that really hit.
In or out of high school you can never really know someone. You don't know what goes on in a person's life when you're not around.
Everyone has secrets and sometimes, especially in high school, they act out in certain ways to protect themselves.
And this book was a great example of that.
Truth: Some of these characters might not be very likable, but that's alright because you don't have to like them, you just have to hear them out and maybe by the end accept them.
They're flawed but that's what makes them human.
You will not find a "perfect" character in this book and that's kind of what makes it perfect itself.
ORIGINAL REVIEW POST
Please Pretty Lights
by
Ina Zajac
My rating:
4 of 5 stars
I've never read anything like it. And I doubt I'll ever find any other book that compares.
There's just so many emotions and hardships that I've never even considered. But it still has many relatable moments that really pulled me in.
From their first moments I felt like I knew the characters and was a part of them. Which made what they go through so much more.
So much more that I'm not even sure if there's just one word to describe it.
FULL REVIEW
Stolen Dreams
by
Christine Amsden
My rating:
5 of 5 stars
I'm always trying to find words beyond what I'm feeling but simply put: I loved it. I was pretty much ready to give it the 5 stars long before I was anywhere near the end.
The amazing ending that this amazing series deserved.
It had everything, highs and lows, ups and downs. Answers and conclusions I've been wanting and waiting (more like hoping) for since the beginning.
I can not wait to revisit these characters and this world as soon as I can, because I will definitely be rereading this series first chance I get.
FULL REVIEW
The Edge of Always
by
J.A. Redmerski
My rating:
4 of 5 stars
THE EDGE OF ALWAYS takes you on a ride you won't forget.
Yeah; I can honestly say I agree with the last part in the description and say that I won't soon be forgetting this story.
I'm also going to be honest and say I was afraid to start this book.
When I finally did start it after having it for weeks (more like months) I couldn't bring myself to fall back into Camryn and Andrew's world. I put up a lot of resistance even when it came to simply sitting down to continue reading.
But I never once even thought: Maybe I just shouldn't read this.
Because, like with
The Edge of Never
, I needed to read this book. Both had a story to tell and I needed to hear it.
When I read
The Edge of Never
last year I said it found me when I needed it most. Of course, now I'm not trying to sound philosophical when I say this but, I was a different person then. I wish I could explain why, especially considering that not a lot has changed for me; I'm exactly where I was this time last year. But at some point in the last few months I've hit a sort of peace.
(A sort of peace that doesn't make me want to just get up, say screw it all and go. That's how
The Edge of Never
"found me" last year; I was not too far from doing what Camryn does. Actually I practically did, so it was more than appropriate that I started reading it a month later.)
So maybe that was it:
The Edge of Never
found me and I found
The Edge of Always
. Two books with one main message to one person at two different points in her life.
I guess I should try to explain why I was afraid to start reading and go back into that world.
Simply put: I read the description, saw the word tragedy figured out what was going to happen right then and there and pretty much had to fight myself from breaking into tears.
From just the description.
I wish I could explain why that hit me so hard, but that's a mystery even to me.
Another mystery is why I couldn't let myself stay in their world for too long. The only answer I can give is that it was real. This book is about the real world, real life and maybe someone's reality.
Also it did have a handful of moments where it lagged a bit.
Hey look I actually said something about the book itself.
I probably shouldn't even call this a review since other than my feelings towards the book I'm not sure I can say my feelings for the book.
All I can really say, I guess, is that it's a beautiful story about life and it really inspired me.
It made me think, it made me feel. It hit me like no other book before.
ORIGINAL REVIEW POST
Pie Girls
by
Lauren Clark
My rating:
4 of 5 stars
What a great book about finding yourself. I loved joining Searcy on her very bumpy journey to self-discovery.
Searcy is such a strong character; everything that gets thrown at her she takes it in perfect stride. And I'll admit about every other chapter I'd think to myself "Alright this is the chapter where she'll snap." But she never did! And that's pretty awesome.
Again she's strong and never let's life knock her down.
Well, except that bit in the beginning. But- hey- you have to fall before you rise again. And Searcy didn't just rise, she shot up.
The story is very funny, very sweet and very very enjoyable. The characters are fun and so loveable, even the one's that only make brief appearances.
This is the second book by Lauren Clark that I've read and I have to admit that she's becoming one of my favorite go-to authors.
FULL REVIEW
John Dreamer
by
Elise Celine
My rating:
5 of 5 stars
I can see why people might not like it.
It's pretty original; which can also sometimes be considered as "out there."
And this book could definitely be described as out there.
The idea and it's premise are like no other. And the best part about it's originality is that it's characters are pretty much anything but original. They're basically the same old characters we meet in most YA novels: the nerdy guy, the bully, the shy quiet almost invisible girl, the pretty-slightly insecure- girl, the basically all-around good looking guy and our main character who doesn't really know what she wants.
Except for the all-around good looking guy; because who doesn't want him?
This is one of those stories where you can find a character to relate to and be a part of.
I love the world of the Great White Room and the idea of being able to make all your dreams come true is amazing.
It's like something else for everyone. I can not wait to read more books in it's series.
ORIGINAL POST
How to Get Dressed: A Costume Designer's Secrets for Making Your Clothes Look, Fit, and Feel Amazing
by
Alison Freer
My rating:
4 of 5 stars
Alison Freer's writing is so much fun to read. It was like an instant best friend.
An instant best friend telling me how to dress. I've only been fighting them off since middle school.(And don't get me started on the "let me cover you in make up "friends.")
My only problem with the book is that I don't feel like she ever addressed women of my body type, that is the petite ruler type. She went on and on about curves and different types of waist lines, but never really got to those of us who are, more less, shapeless.
Also I've never been a one style type of girl so I got a little confused with all the different types she mentioned.
That's really just my lack of fashion knowledge, though. (Hence the "friends" trying to dress me.) But thanks to this book I have been inspired to try and define my style. Right mow I think I'm in a "Retro-Modern" thing but I'll let you know once I finalize it.
That one thing aside, all the tips in this book are awesome and, as someone who is constantly altering her clothes, incredibly helpful. It's a beyond great reference book that I will definitely be buying first chance I get.
And then most likely using it to death every time I need advice on something I recently got. Like the used things I receive that need adjusting... or cleaning.
The chapter on stain removal itself is a godsend, every few stains I kept thinking "where were you a few month/weeks ago?!"(Nail polish on my favorite shirt + me going crazy looking for help online = a permanent blue smug on my favorite shirt.)
There's probably a handful of things I won't be doing- I know, I know, I'll feel bad because I know it's wrong but old habits and all- but at least now I'll know how to do them.
ORIGINAL REVIEW POST