I've kind of slowed down on my reading this week. Even so, I keep looking at my books and thinking "Yeah I'll be done with you by the weekend."
That's probably one of my bad habits I get so determined with a book, I decide that most everything else can wait.
Then, of course, I feel bad for procrastinating.
And then I read some more.
I'll break that habit as soon as I finish this book.
A promise I've been making for years.
But that's probably best saved for another post.
What I've read since my last post:
Deadly
by
Sara Shepard
My rating:
5 of 5 stars
Out of 14 books this is the first in the series that I've given 5 stars to.
Something actually happens in this one!
Toxic
by
Sara Shepard
My rating:
4 of 5 stars
I can see the light at the end of the tunnel.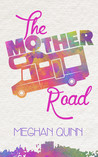 The Mother Road
by
Meghan Quinn
My rating:
5 of 5 stars
REVIEW SOON (hopefully)
As soon as I finish whatever else I feel I need to do.
Reading this week: