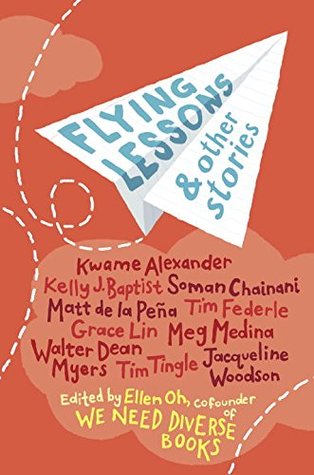 Flying Lessons and Other Stories
by
Ellen Oh
My rating:
4 of 5 stars
Published January 3rd 2017 by Crown Books for Young Readers
Whether it is basketball dreams, family fiascos, first crushes, or new neighborhoods, this bold anthology—written by the best children's authors—celebrates the uniqueness and universality in all of us.

In a partnership with We Need Diverse Books, industry giants Kwame Alexander, Soman Chainani, Matt de la Peña, Tim Federle, Grace Lin, Meg Medina, Walter Dean Myers, Tim Tingle, and Jacqueline Woodson join newcomer Kelly J. Baptist in a story collection that is as humorous as it is heartfelt. This impressive group of authors has earned among them every major award in children's publishing and popularity as New York Times bestsellers.

From these distinguished authors come ten distinct and vibrant stories.
***DISCLAIMER: This review contains an overuse of the word "Different."***
You know what's great about anthologies? It's all these different stories written by different authors with different view points, different lives, different writing styles, different ideas coming together to create
one
book.
Much like it's readers, we all have different stories, different backgrounds, different view points, different experiences, even different opinions of this book alone.
This is a great collection of stories to emphasizes that there is more than what we know of the world and the people in our lives. Even if they're just in our lives for a passing moment.
The characters in these ten stories are absolutely authentic. Whoever they might be there is someone out there that will see themselves in one of these characters. And if they don't that's even better, because they will see into the lives of someone else.
This is perfect for kids of all ages, like any good book should it will open them up to a new world (their own, actually) and show them life from another perspective. All while subtly making a good point and maybe teaching something in the end.
We come from different places, we're all going different places but if that wasn't true we'd be stuck in a very dull book with the exact same story playing over and over.
The world is an anthology and we're all contributing our story to it.