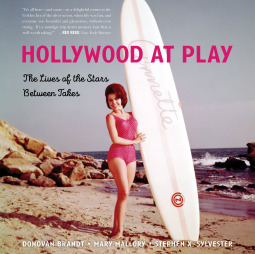 Hollywood at Play: Celebrating Celebrity and Simpler Times
by
Stephen X. Sylvester
My rating:
5 of 5 stars
February 1st 2017 by Lyons Press
Fans from around the world continue to be fascinated by classic-era Hollywood (1925-1960) and its larger-than-life stars. Nostalgia for this simpler, more glamorous time offers a safe and temporary escape from our complex lives.
The authors capture this era with in Hollywood at Play, featuring unique and rarely seen images of such legendary stars as Audrey Hepburn, Elizabeth Taylor, Bette Davis, Joan Crawford, Marilyn Monroe, Clark Gable, Judy Garland, W.C. Fields, and Tyrone Power enjoying fun and relaxation outside of their studios. Hollywood at Play presents iconic images of the classic stars taking time out from the demands of celebrity to enjoy dancing, bike-riding, roller skating, bowling, and playing tennis; diversions offering a chance to relax and be themselves.
This delightful and unique book will appeal to classic movie fans, and enthusiasts of celebrity, fashion, and Hollywood history. The photos contained in Hollywood at Play come from the collection of Eddie Brandt s Saturday Matinee, Hollywood s first and oldest family-owned photo archive. From the 800,000 images available in their collection the authors have chosen over 200 fascinating and rare photos to include in this book. Among the photos are eight rare photos of a young Marilyn Monroe at play; Mickey Rooney and Judy Garland frolicking at a pool party; Steve McQueen and James Garner astride McQueen s iconic motorcycle between takes of The Great Escape; Bobby Darin and Sandra Dee out on the town; Sammy Davis Jr. hamming it up with Dean Martin and Frank Sinatra; and many others."
I love books, I love old photographs, and I absolutely love old Hollywood movie stars. Anyone who says they don't know what to get me as gifts must not know books like this exist
It's one of my favorite things.
Debbie Reynolds with Lucille Ball, Jane Russell with Vincent Price, Judy Garland and Elizabeth Taylor. Pairings that I probably never would have imagined.
Seeing everyone outside of a movie set just being natural, hanging out with friends is the greatest thing. It made them so real. No role, no act, just absolute Hollywood glamour.

I'm a believer that everything (and one) was so much prettier than now, I don't know what it is but there's something special to me about that time. The way everyone dressed, the way they did things and just the simplicity of the little things.

It was so much fun looking through the pictures in this book and reading some background on the actors themselves. There's something kind of magical about being able to take a look back at the world of something that seems so long ago.
I just loved it so much.