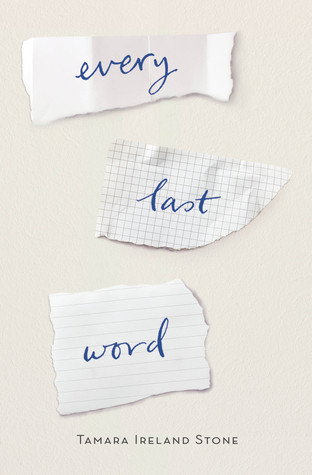 Every Last Word
by
Tamara Ireland Stone
My rating: 5 of 5 stars
Published June 16th 2015 by Disney-Hyperion
If you could read my mind, you wouldn't be smiling.
Samantha McAllister looks just like the rest of the popular girls in her junior class. But hidden beneath the straightened hair and expertly applied makeup is a secret that her friends would never understand: Sam has Purely-Obsessional OCD and is consumed by a stream of dark thoughts and worries that she can't turn off.

Second-guessing every move, thought, and word makes daily life a struggle, and it doesn't help that her lifelong friends will turn toxic at the first sign of a wrong outfit, wrong lunch, or wrong crush. Yet Sam knows she'd be truly crazy to leave the protection of the most popular girls in school. So when Sam meets Caroline, she has to keep her new friend with a refreshing sense of humor and no style a secret, right up there with Sam's weekly visits to her psychiatrist.

Caroline introduces Sam to Poet's Corner, a hidden room and a tight-knit group of misfits who have been ignored by the school at large. Sam is drawn to them immediately, especially a guitar-playing guy with a talent for verse, and starts to discover a whole new side of herself. Slowly, she begins to feel more "normal" than she ever has as part of the popular crowd . . . until she finds a new reason to question her sanity and all she holds dear.
The Beautiful One of 2017
It's such a complex topic but the book itself feels so simple. (That's a good thing). It's understandable and even relatable. It's not just a deep rabbit hole of Sam's thoughts and emotions that'll just make you think "Oh poor thing." I actually never thought that and I don't think I was suppose to; I was suppose to understand her and I did.
Whatever it is; we don't, and never will, know a person's whole story, the best we can do is be there and try.
8 Months Later:
I went back sometime later and switched ratings from 4 to 5 stars. It clearly deserved it if I was still thinking about it so long after.
It really is beautifully special.
Quotable Quotes
"Mistakes. Trial and error. Same thing. Mistakes are how we learned to walk and run and that hot things burn when you touch them. You've made mistakes all your life and you're going to keep making them."
"Everyone's got something. Some people are just better actors than others."
"You look around at the people in your life, one by one, choosing to hold on to the ones who make you stronger and better, and letting go of the ones who don't."
"What you see, it isn't me"
The Day I Met the Author
She was so kind! I don't know why I was expecting otherwise, but it was just a genuine "thank you for being here," type of kind. I was one of the first in line (which might be why she wasn't in such a rush or tired yet) and she stopped and talked; it wasn't just sign the book, thanks bye