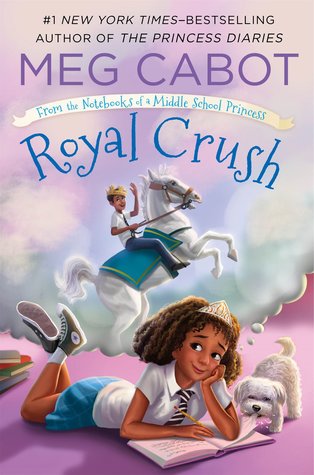 Royal Crush
by
Meg Cabot
My rating:
5 of 5 stars
Published: August 1, 2017 by Feiwel & Friends
Olivia Grace Clarisse Mignonette Harrison is turning thirteen. Even better, she's finally starting to get the hang of this princess thing. Just in time, too, since her half-sister, Princess Mia Thermopolis, is expected to give birth to twins any day now!



It's pretty much the worst time possible for a school field trip, but everyone is insisting that Olivia must attend the Royal School Winter Games. Between Grandmère chaperoning, Olivia's snobby cousin Luisa complaining about her relationship woes, and everyone insisting that Olivia has a crush on Prince Khalil (even though she isn't sure that he even wants to be friends anymore!), things are quickly turning into a royal mess!
The third book in the middle-grade Princess Diaries spin-off series, written and illustrated by New York Times-bestselling author Meg Cabot.

The One That Doesn't Need a Title or Reason Because It's By Meg Cabot

My Thoughts:

S'wonderful! I loved it so much. I can not remember the last time I actually laughed out loud while reading a book. Or even cried!

It was such a throwback for me; both because of getting to spend time with a Genovian princess (and Grandmère) but also just being a teen. Only Meg Cabot can give me fond memories of being a teenager.


Of course most of those memories were of me reading the original Princess Diaries and writing in my own journal.


I actually finished reading this and pulled out my journal to write in for the first time in months! And I undoubtedly sounded like a teen girl due to both the context and my mind frame (I was definitely channeling my inner Mia, plus there was a guy mentioned).

I will admit I was a little more excited to hear everything going on with Mia, (I did grow up with her, which is where the crying comes in) and I loved the little mentions of the previous series. Including one mention about the previous series!

Olivia is such a delight. What's not to love about her? The voice given to her is simply perfect it feels so authentic and down to earth. She's so level headed; from realizing her crush to dealing with the snobby girl she handles it so well (though I might be comparing her to her maybe a bit over dramatic half-sister Mia). But it's also the voice of a new teen girl so you do get more than a few "pre-teen" moments that young readers will absolutely love and older readers who are long past all that will feel totally nostalgic over.
Who doesn't love a little middle school "drama" in hindsight?

I think my favorite part of this entire series is that; while I got to grow up and go through my teen years (2003-2010) with Mia and The Princess Diaries with this series I get to relive those early years from another perspective and of course having all that long behind me it's much better enjoyed and appreciated.



5 Months Later (Exactly)

I was at the check out line in the market the other day and saw a magazine claiming that Kate Middleton was having twins and my only thought was to cry "Just like Mia!" (Well that and "No she's not.")

The princesses of Genovia, as well as their creator, will always have a special place in my heart and any and all book related lists I make.


Quotable Quotes:
"But one thing you can't change, unlike your hair or your shoes, is other people. Only they can do that.
Sadly, they almost never do.
But there's always hope."