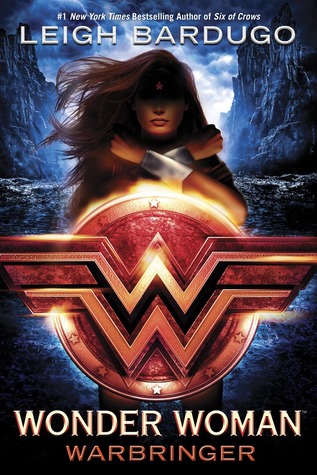 Wonder Woman: Warbringer
by
Leigh Bardugo
My rating:
5 of 5 stars
Published August 28th 2017 by Random House Children's Books

Daughter of immortals.

Princess Diana longs to prove herself to her legendary warrior sisters. But when the opportunity finally comes, she throws away her chance at glory and breaks Amazon law—risking exile—to save a mortal. Diana will soon learn that she has rescued no ordinary girl, and that with this single brave act, she may have doomed the world.

Daughter of death.

Alia Keralis just wanted to escape her overprotective brother with a semester at sea. She doesn't know she is being hunted by people who think her very existence could spark a world war. When a bomb detonates aboard her ship, Alia is rescued by a mysterious girl of extraordinary strength and forced to confront a horrible truth: Alia is a Warbringer—a direct descendant of the infamous Helen of Troy, fated to bring about an age of bloodshed and misery.

Together.

Two girls will face an army of enemies—mortal and divine—determined to either destroy or possess the Warbringer. Tested beyond the bounds of their abilities, Diana and Alia must find a way to unleash hidden strengths and forge an unlikely alliance. Because if they have any hope of saving both their worlds, they will have to stand side by side against the tide of war.
The Awesomely Wonderful One


Those 5 stars can go to Diana alone. I loved her so much; she's all kinds of wonderful. (Sorry, couldn't resist.)
But then, the same can be said about the writing, it has been far too long since I've fought with the little voice in my head that would tell me to stop reading and put the book down. Welcome back to the other voice telling the first voice to shut up.
3 Months Later:


This was another book that pulled me out of my slump.
It's Wonder Woman! What's not to love?
Quotable Quotes:
"I am done being careful. I am done being quiet. Let them see me angry. Let them hear me wail at the top of my lungs."
"We cannot spend our lives in hiding, wondering what we might accomplish if given the chance. We have to take that chance ourselves."
"You can't live in fear. You make things happen or they happen to you."


The Time I Didn't Meet the Author
Or get an ARC with t-shirt, because I had no intention of killing myself for the chance at one of only 100 copies. No book is worth it to me. I'll cry about not getting a chance but from what I heard from someone who did try getting one, it was horrible. She didn't get one either, if you're curious.
It's ridiculous and as much as I like the idea of free stuff at these events it's sometimes a bit of a turnoff.
I did get a shirt later in the day though, (and I didn't have to trample anybody) it's extra large so it's more of a night shirt but hey, I got one. To be honest I wanted it more than the ARC, I was going to buy the book anyway but where else would I find the shirt?
I pre-ordered the book signed so I never met Leigh Bardugo but I did meet Marie Lu (author of the upcoming Batman book) and talked to her about it. She started it when I introduced myself and she pointed out that it was like Wonder Woman. Totally forgot that she was writing one too until I got home.