Originally Posted: July 18, 2014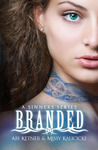 Branded
by
Abi Ketner
& Missy Kalicicki
My rating:
5 of 5 stars

Fifty years ago The Commander came into power and murdered all who opposed him. In his warped mind, the seven deadly sins were the downfall of society.


To punish the guilty, he created the Hole, a place where sinners are branded according to their sins. Sinners are forced to live a less than human existence in deplorable conditions, under the watchful eye of guards who are ready to kill anyone who steps out of line.

Now, LUST wraps around my neck like thick, blue fingers, threatening to choke the life out of me. I've been accused of a crime I didn't commit, and the Hole is my new home.

Constant darkness.

Brutal and savage violence.

Excruciating pain.

Every day is a fight for survival.

But I won't let them win. I will not die in the Hole.

I am more than my brand. I'm a fighter. My name is Lexi Hamilton, and this is my story.
I owe this book a better review than the one I wrote it
last July
. Which I did not reread before writing this one nor did I reread the further thoughts I wrote on it when I added it to my
end of year list
in December.
I wanted to keep this fresh.
That being said; sorry if I end up repeating what I said in those previous review.
So yes, technically this is the third review I'm writing for this book, that alone should say something.
Although this review is for the second edition of Branded but that really doesn't make a difference because I loved it just the same.
Other than one thing I didn't really note any differences.
In my defense though, it has been a year (exactly) since I first read it.
Having already read it you'd think I would have avoided making the mistake I made when I picked it up to start reading.
That mistake being; me deciding to start reading before bed knowing full well that once I started I was not going to want to stop. After reading the first sentence my first thought was: "Oh no, this is gonna be a long night."
How I managed to ever put it down I'll never know. I would dive in and not want to come back.
And then the battery on my Nook (fondly known as Linky) would die.
It's such an amazing non-stop story.
I found myself falling all over again for the characters, if possible even harder this time around. The writing has a distinct style and personality that I couldn't not fall back into that world and get caught up in it's action even if I did know what was coming.
Ever since I read it last year I hadn't stopped thing about it, so clearly I jumped at the idea of rereading it.
Now it just left me looking forward to the next one.